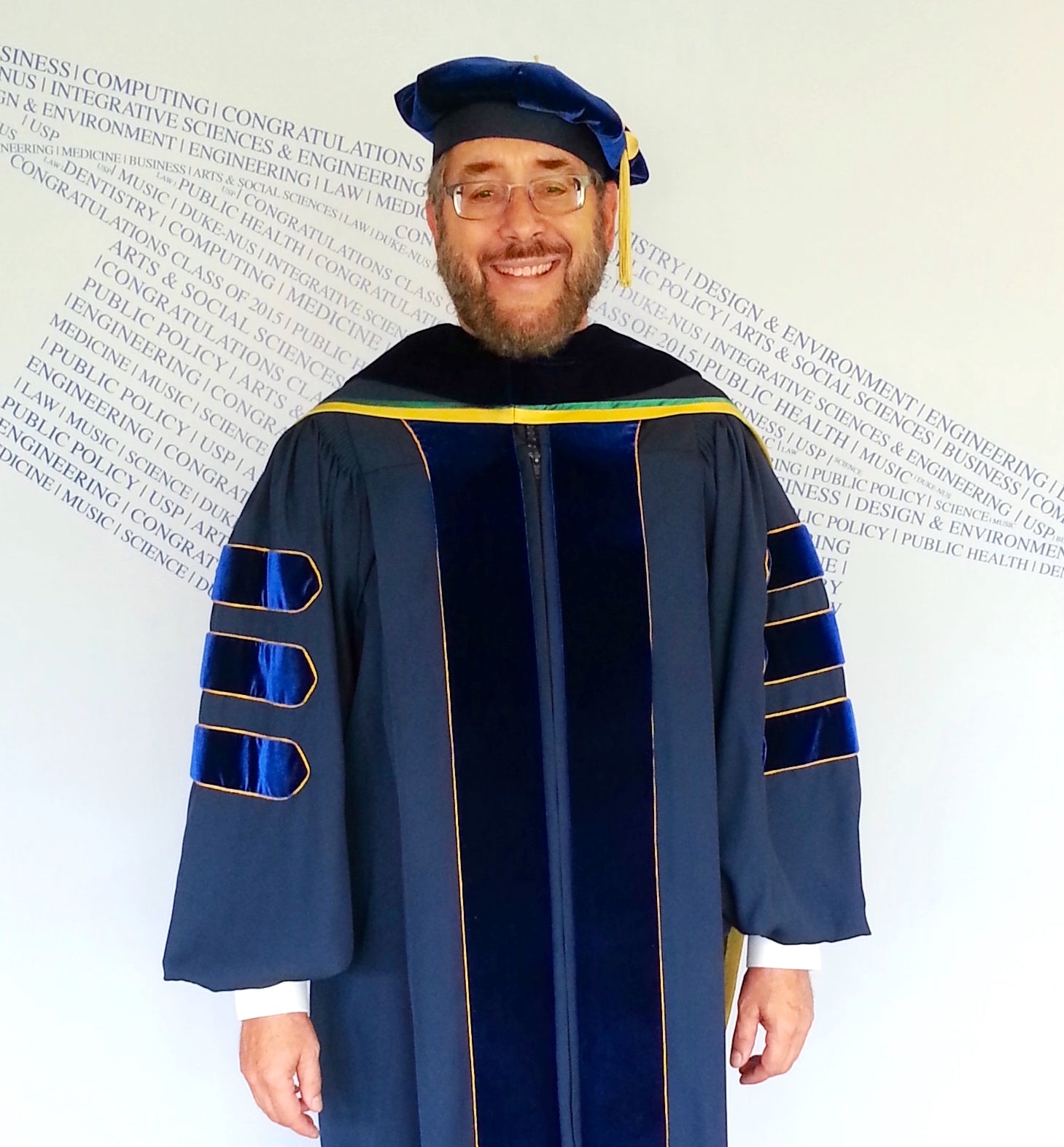 Thanks so much for making the gown and custom hood. Graduation went well and I looked terrific, thanks to you. Excellent work!
William Martin, PhD
UC Santa Barbara and UC San Francisco alum and professor at National University of Singapore
I first wanted to make sure the product was available and will arrive in time for the commencement so sent an email to the company. The reply came back within hours with a clear instructions for ordering it online. They custom made it and delivered it in 3 weeks. The regalia fits perfectly and am very happy with the entire process as well as the product. Thanks.
Tae Lim, PhD
UVA
The quality of the gown was great. It came in nice packaging and in a very timely manner. Thank you!
Hannah Jang, PhD
UCSF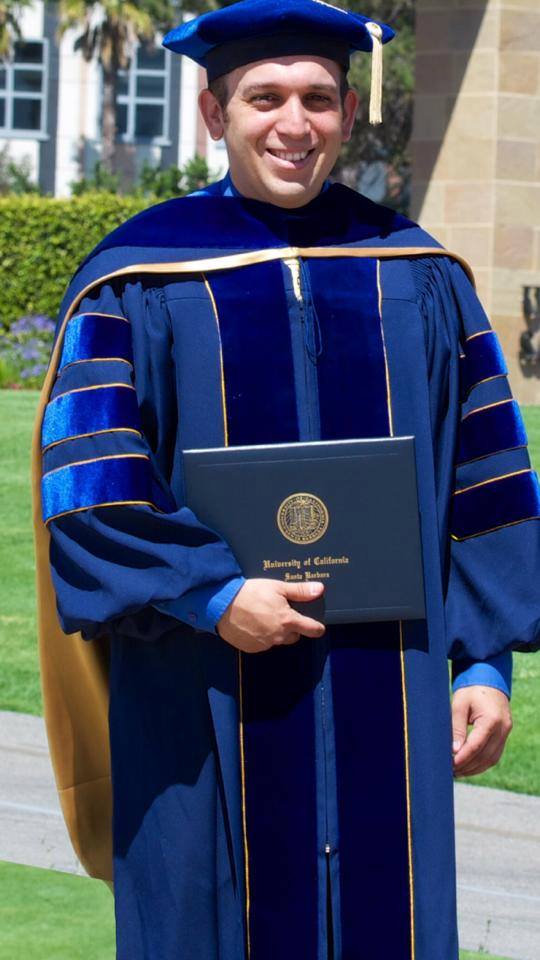 I was looking for a doctoral robe for my son who is graduating from UC-Santa Barbara. We love the product – it fits him nicely, the shoulder pleats are neat and the weight is just right (not too light or too warm). It looks really nice and professional with a much more affordable price compared to the bookstore. And especially after seeing all the Regalia at the graduation day, your product is superb. Nok was extremely helpful in answering the many questions that I had. She always called me back right away, even on weekends! Thank you for helping make my son look so "Regal"!
Linda Quintero
My favorite part was the fast delivery of an exchange. It took less than a week. Now my cap fits. I can't wait to wear my cap and gown. Thank you!
Constance James, PhD
UCLA
Assistant Professor at Pepperdine University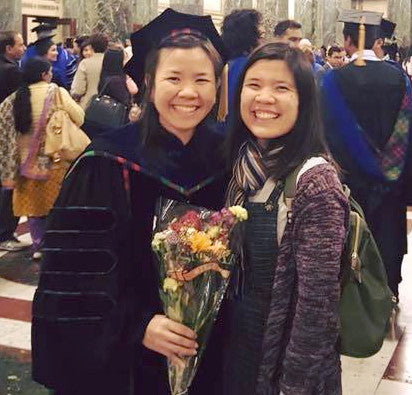 As you know, custom regalia from a university store is quite high priced. So why you choose that option if you have a better option. Phinished Gown offers you a fantastic grown with a reasonable price and good service.
Pui Siripha, PhD
CMU
A group of my classmates were graduating this year and we were able to easily organize a bulk order and delivery to campus. The customer service was great!
Andrea Golliher, PhD
UC Berkeley
My regalia was beautiful, arrived extremely quickly and exceeded all my expectations. Only bad thing - I had to replace your beautiful and elegant hood with the one I received at my doctoral hooding. My hood was not nearly as elegant or well-made as yours, but it has my discipline colors and holds great senimental value. None-the-less, it looked great with my new regalia and all my fellow deans were jealous of my wonderful regalia. They just wished you provided regalia from more colleges.
Kathleen Schrader PhD
UCSF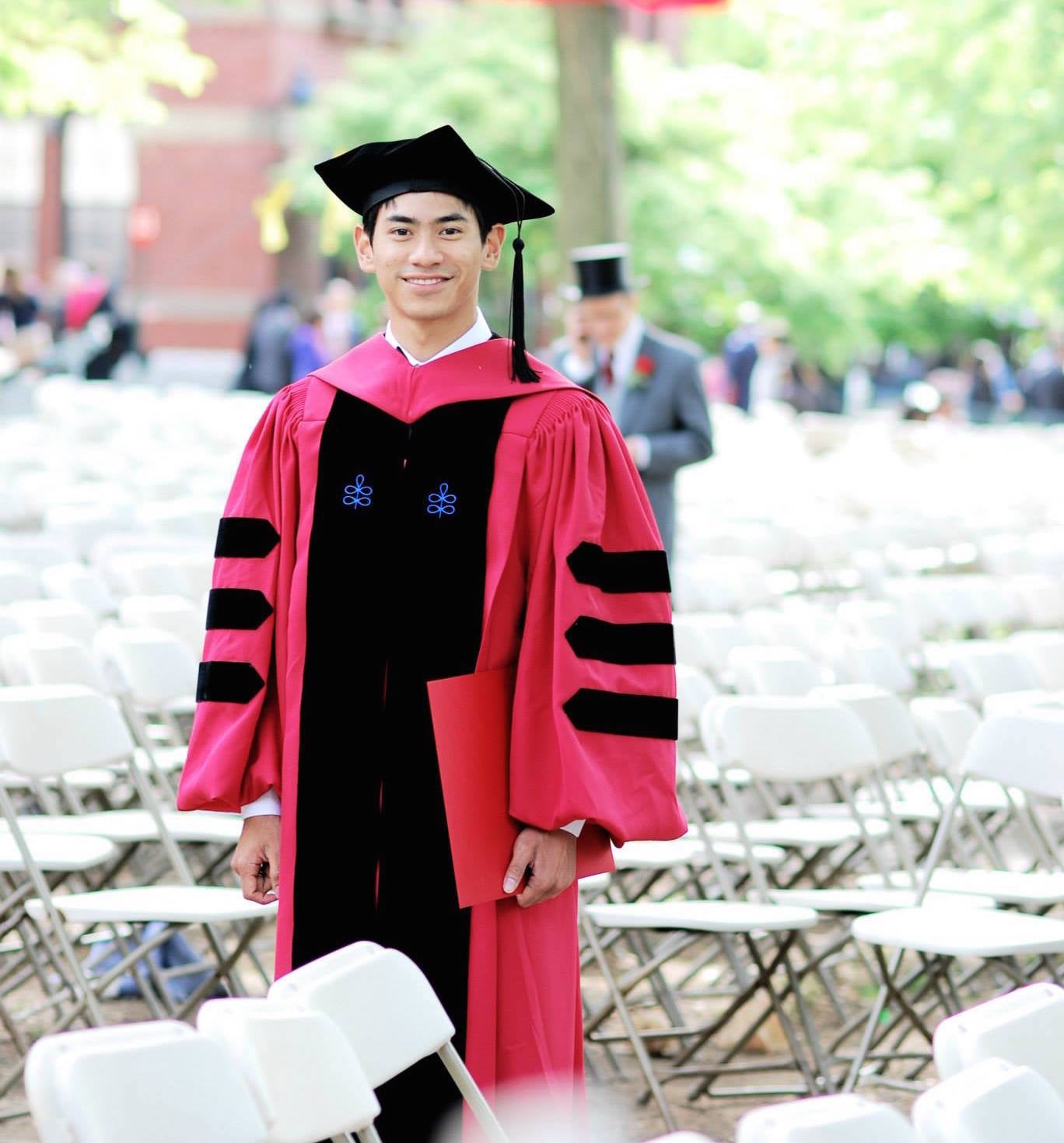 I couldn't be happier with PhinisheD's Gown. The PhinisheD team worked tirelessly combing through the fabric market to find the *exact* type of fabric for this gorgeous gown. The details of the gown is exquisite and exact, down to the placement of the button in the back and the hood hook in the front. I was especially impressed by the specific crow feet emblem on the chest. Highly recommend this.
Fah Sathirapongsasuti, PhD
Harvard
Great quality and much cheaper gown than other companies. Well worth it!
Anna Luerssen, PhD
UC Berkeley
Assistant Professor at Lehman College
Excellent quality materials, nice color, neatly cutting, good sizing with affordable price. PhinisheD Gown definitely makes me look fabulous on my graduation day... I would recommend all my friends !!!!!!!
Chukwan T., PhD
UC Davis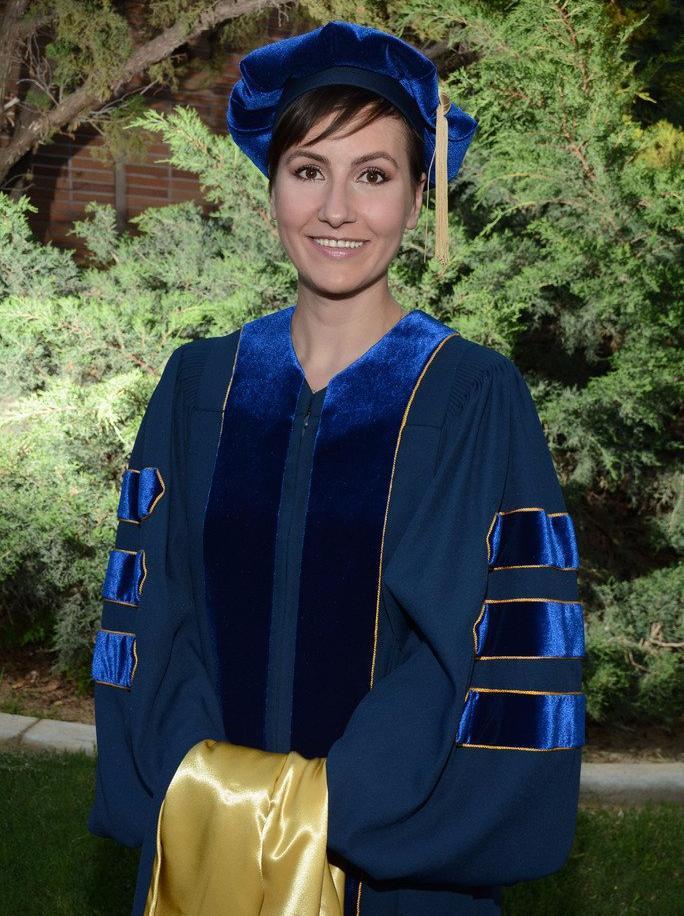 I was hesitant to purchase regalia online without trying it on or seeing it in person. But I wasn't about to pay the $1295 that my UC required to purchase it. So I started looking online. I looked at capandgown first, and their pictures looked really good until I saw the ones on the PhinisheD website. I was persuaded by the reviews and the pictures to go with this one, and I do not regret it one bit. The regalia is beautifully sewn and finished. The velvet is a brighter blue than most other regalia I saw my friends and colleagues wearing, which really does make it look a lot nicer. And did I mention it has pockets? Before I knew it, people were giving me their things to hold! I will be wearing this set every year for the next 30-35 years as a professor, and it looks like it will hold up nicely. I should also add that Nok was immensely helpful with any questions I had about sizing before I actually purchased the item. I was unsure about the size because I was likely measuring my shoulders wrong. Nok answered my email in a few hours, and I decided to go with the Small over the Medium. By the way, when in doubt, size down. These are huge and quite long. I did have a few issues with it that were not deal-breakers but could stand some improvement: Whatever the hard material was in the shoulder area that ensures the gown stays stiff and looks nice did not sit flat across the chest, and the front hook kept coming unbuttoned. I managed to get it to sit properly, and it stayed put, but it was slightly annoying. I'm not sure if this can be fixed or if it was just a matter of my chest span failing to accommodate the breadth of the gown. One other thing was the back of the hood. While the colors were true blue and gold -- as opposed to the orange and blue that was passing for UC colors all around me -- I felt like the part of the hood that is supposed to fold over could have been wider, so the colors could be more visible. Thank you for such a pleasant experience, Phinis...
Flavia Ruzi, PhD
University of California alum
I want to say how much I appreciated your prompt and courteous service from the time of ordering, to receiving the whole package, to your very easy and quick exchange of the tam. I am impressed and I hope you understand how much I appreciate the attention to detail and customer service that you have provided.
George, PhD
Stanford
I'm very impressed with the high quality of the product, the exceptional customer service, and the great price! The shipping was also very fast (overnight) and the gown came in a box with no creases. I would definitely recommend this to anyone who wants a gown!
Jackie Siriviriyakul, PhD
UC Berkeley
Assistant Professor at the Baruch College, CUNY
The quality of fabric was great and there was nice attention to detail.
Jennifer Stellar, PhD
UC Berkeley
Products delivered as advertised. Thanks for the affordable regalia!
Amie Gordon, PhD
UC Berkeley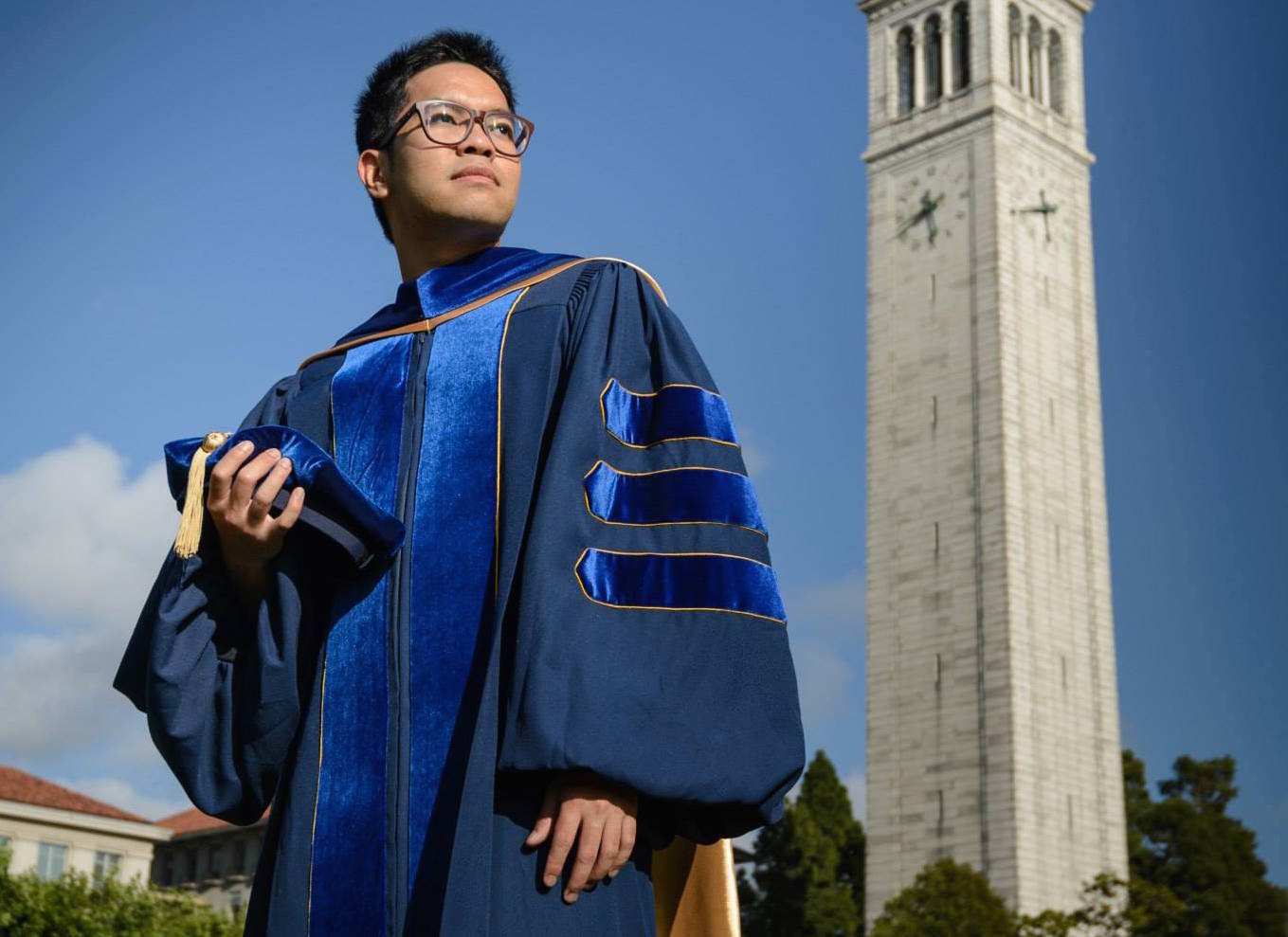 Great product quality! Deliver on time! Highly recommend if you're finding your PhD gown
Kan Kanjanapas, PhD
UC Berkeley
Excellent quality with such an affordable price. I'm very impressed and highly recommend!
Ong Pholchai, PhD
UC Berkeley
Phinished Gown saved my commencement ceremony! My big day was next Monday, and it was on Thursday night (~11PM) that I realized that the tam I had selected was a bit smaller for myself. I then sent out an email asking for possible exchange. This was literately a last minute request. However, Nok from Phinished Gown replied my email within 20 minutes, saying that he would mail me a larger tam and it should be delivered to me on Saturday, free of charge. Realizing that the next Monday would be my big day, Nok even offered to drive to my town for delivery if the new tam was not delivered on Saturday. Luckily, he did not need to drive; that is because the new tam was delivered to me on Saturday morning. Inside the package, Nok even provided me the shipping label of the returning tam. All of these services were free of charge, and all I need to do was only to drop the returning package at USPS when I have time. I could not ask for a better purchase experience. Thank you very much, Nok and Phinished Gown! I will definitely highly recommend Phinished Gown's product, which will let you look great on your big day!
Peng Zheng, PhD
UC Berkeley
I am so pleased with my robes. I had hesitated to purchase robes because I didn't want to spend a lot of money on something that I would wear once or twice a year. The robes, Tam and hood are beautiful. I am very pleased indeed.
Charlotte M. Vines, PhD

Harvard alum
I am very satisfied with your product and service.
Ruzica Nikolic, PhD

Harvard alum
I placed an order pretty late and got the gown just a day before the graduation, just in time! Thanks to Jane for making a high quality regalia at a reasonable price and giving me a lovely note. Now I just need to walk the Lawn and get hooded tomorrow!
Lin, PhD

University of Virginia (UVA)
Quick, responsive service in light of being in the midst of fulfilling a lot of orders. Thanks for the flexibility in the pre-order and everything looks great!
Kevin D., PhD

University of California
My regalia is incredibly AWESOME!!! I was stunned and astonished how WELL MADE it is. I was impressed with the details and the great quality of the fabric used. It fits to perfection! I am extremely satisfied with PhinisheD Gown's work, the price was just right and affordable, right on my budget. I cannot thank them enough for my beautiful regalia. I'm glad I found PhinisheD Gown. I will be VERY proud wearing it in every graduation for the rest of my career life! I highly recommend this company. Customer service -outstanding!
Jeniba Dart, PhD

Professor at East Georgia State College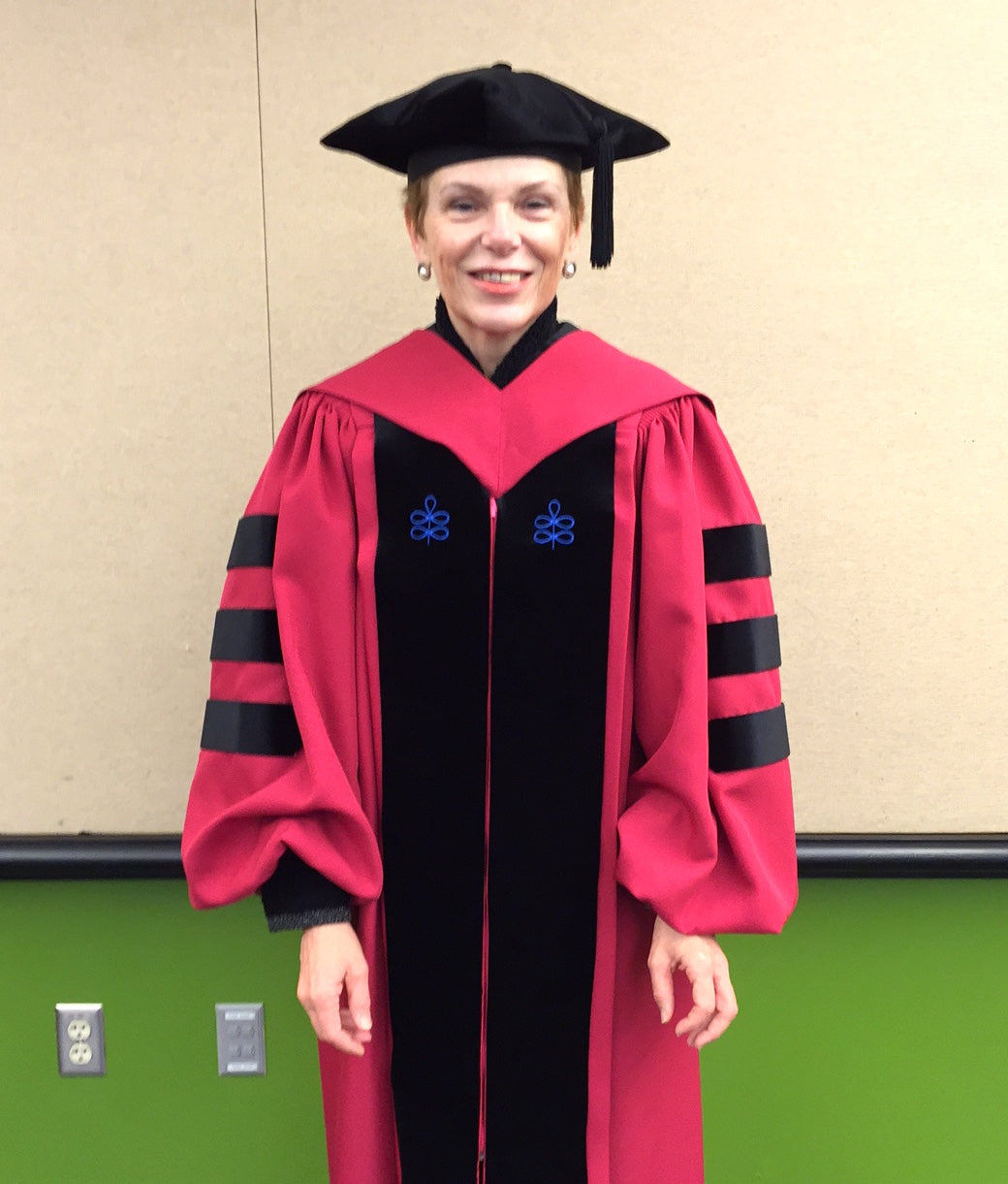 I wore the beautiful gown you made to the hooding ceremony today and got SO MANY compliments! Not to mention the number of people who wanted to take their picture with me! You made me feel so proud. Thank you, PhinisheD Gown!
Melanie Billings-Yun, PhD
Harvard alum, Adjunct Professor at Portland State University
I was looking at several companies, and chose PhinisheD Gown because they had the most responsive and friendly customer service. They were very communicative and patient with my questions. My friends and I are very happy with the quality of our gowns. The whole set of regalia was very nicely packed and the free vinyl cover was a very nice touch.
Si Hui Tan, PhD
Stanford
Here's hoping this message finds you well. I write to express my sincerest thanks to the PHinisheD Gown team for helping to make my graduation a spectacular one! The impeccably made, carefully crafted regalia your team is producing and offering to graduates at affordable rates is a tremendous gift. To be sure, the quality of the gown far exceeded my expectations, and the quick (and free) shipping were icing on the cake! As an extremely satisfied customer, I wanted to express my gratitude to your team.
Isaiah M. Wooden, PhD
Stanford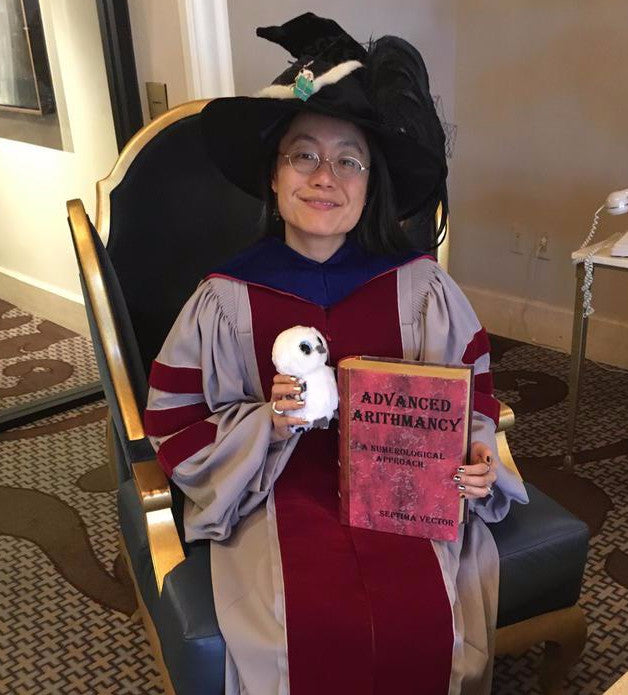 The gown detailing is quite nice. The one thing that is a bit non-optimal about the whole outfit is that when you add the very heavy hood from the school, it is really hard to keep it from riding up and pressing on your neck too much. Attaching to the front buttons of the robe tends to make the front of the robe rumple up a bit. Attaching to interior clothes is challenging because it just untucks a shirt. The button on the back of the gown does help hold up the hood, but the position of the hood being above the edge of the gown means it is still a very high neckline. I don't think this is any fault of the Phinished gown, but is probably just the design of the hood. I watched a bunch of online videos about how to attach the hood, but if anyone has more tips about how to not get slightly strangled, please do share!
Alice Leung, PhD
MIT
I rented my gown for graduation because I didn't know about this company then (and the bookstore gowns were $1000!). But this year I ordered my gown and absolutely love the quality of it!!! I wish I had found this sooner. It's beautiful, high quality, and more than what I expected!
LaShanda Sell, PhD
University of Virginia
I've wanted a proper set of doctoral regalia for many years to wear to faculty events. The PhinisheD robes are extremely high quality; excellent materials, great attention to detail, and expertly sewn. Everything arrived very quickly, and the customer service was absolutely top-notch. I'm very happy with my purchase and to see high-quality competition in this niche industry (not that many people make regalia for MIT).
Michael Stage, PhD
MIT
I just finished my PhD and I recently received the regalia. The craftsmanship is fantastic. I haven't yet compared it to the $800 version that the coop sells but from my memory it is exact. Initially I thought the gown price on this website was high but after seeing the quality, I understand it and think it is a fine deal. Thanks!
Tyler Susko, PhD
MIT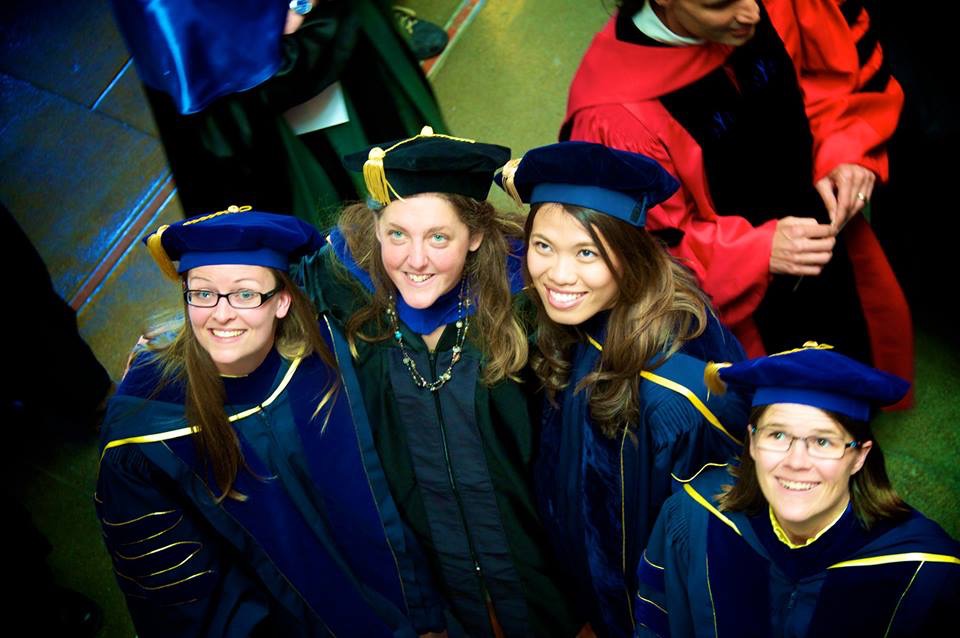 Awesome regalia! Thank you PhinisheD Gown.
Joanne Emerson, PhD
UC Berkeley
I am so pleased with my robes. I had hesitated to purchase robes because I didn't want to spend a lot of money on something that I would wear once or twice a year. The robes, Tam and hood are beautiful. I am very pleased indeed.
Charlotte M. Vines, PhD
Harvard Medical School
As a plus size woman, I have some concerns about the "one size" versions of the gowns based on height. I e-mailed customer service and they responded quickly with recommendations. I am a size 22-24 in women's clothing (apple shaped with more belly than bust) and about 5'7. I ordered a size L gown according to my height and shoulder measurement and it fits great! I haven't tried it on yet with the dress I am planning to wear, but there is plenty of room.
Natalie Ingraham, PhD
UCSF
I'm really impressed with the regalia. I've borrowed the HVD official regalia to wear several times in the past, and this one compares very well. The detail on it is lovely. As an added bonus, the regalia has pockets. Maybe for men this doesn't matter so much, but for women we often don't have any pockets in our clothes so pockets in the regalia is useful. Thank you!
Valerie Oke, PhD
Harvard alum, Professor at University of Pittsburgh
Love the garment bag and hanger supplied with the gown!
Angelica Cortes, PhD
UC Davis
The regalia I received is of very high quality, beautiful colors, and I am looking forward to years of wearing it to commencement ceremonies.
Foster Olive, PhD
UCLA
I'm incredibly pleased with your customer service, affordable price, and high-quality regalia. The product arrived very quickly and came with a nice canvas dust cover bag and a hanger. I high recommend PhinisheD Gown!
Peerapong P., PhD
UCLA
I have been working a long time for my Ph.D. and wanted nice robes for when I got hooded. I looked at the UC websites and was put off by the high price of the robes. I've seen the "inexpensive" robes that are offered through our bookstore, and I do not want to wear them for even a one-off for commencement. As an adjunct/lecturer, I need to wear my robes each year at (sometimes) as many as three different commencement ceremonies, and I did not want to a) wear crap, b) rent (I don't even rent bowling shoes), or c) spend a fortune. I took a gamble and was very happy with the result. The robe appears to be well made and exactly the right style. The hood is beautiful, and the tam appears to be perfect. At first I thought that the main fabric of the robe might be lighter weight than what I've noticed from colleagues wearing the "official" UC robes (as well as some of those who had robes made tailors in Berkeley), however, as it can get to be 105-110 during outdoor commencements at San Joaquin Valley colleges and universities, the slightly lighter fabric may be an advantage. I'm looking forward to May and the opportunity to actually wear them.
Michael Eissinger, PhD
UC Merced

Awesome regalia at a very reasonable price. Why pay more?! Thank you, Phinished Gown.
Por Sae-Seaw, PhD
Stanford
Thanks, Nok & Jane! I'm so happy with with my regalia and with how easy you made the group ordering process. You offer such a great product at a reasonable price. Plus, I was glad to be able to support UC Berkeley alumni! I'm more than happy to recommend your company to others.
Jenni Allen, PhD
UC Berkeley
Very nice quality and great customer service!
Aniko Oery, PhD
UC Berkeley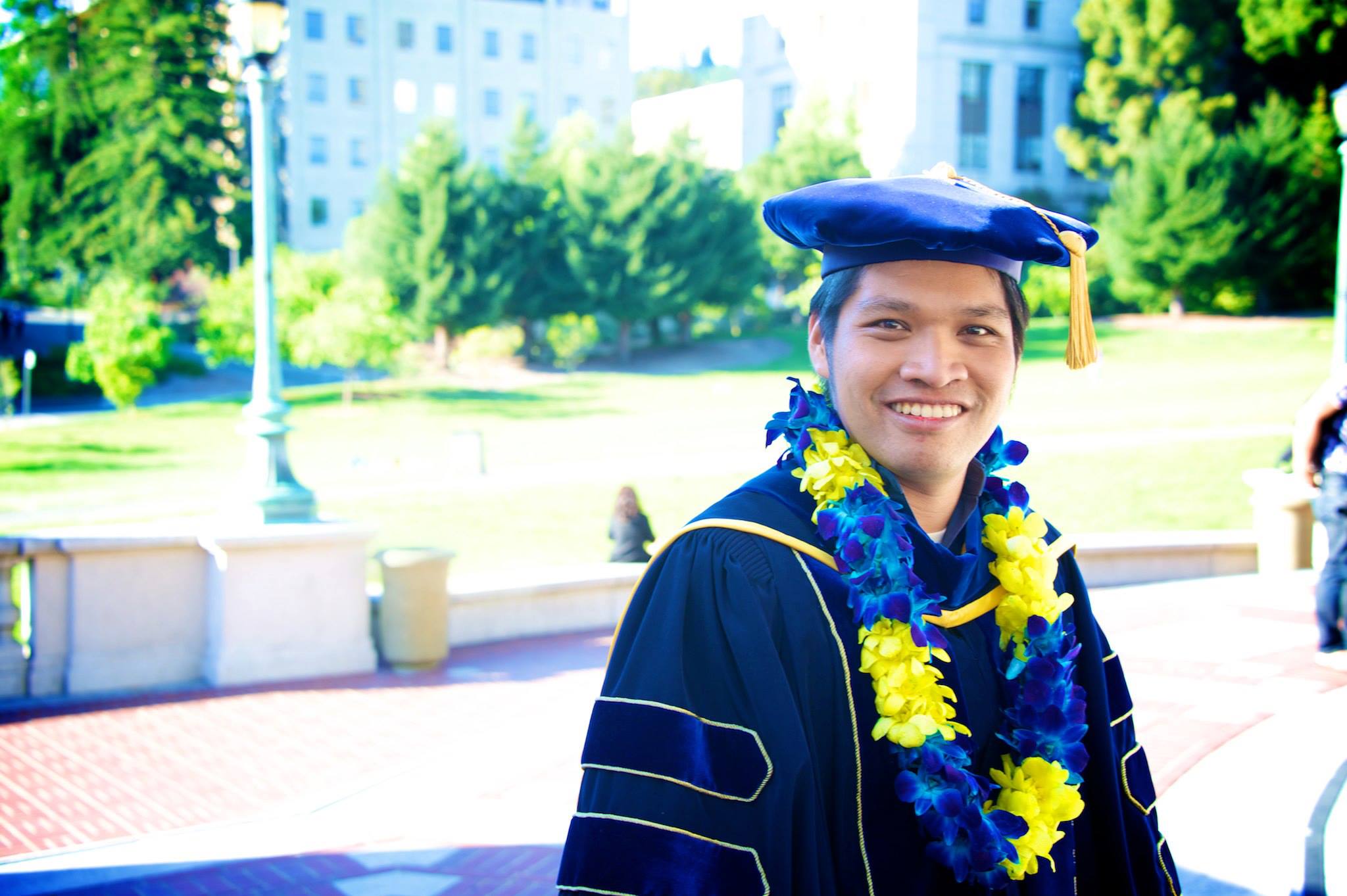 I'm glad that I ordered from PhinisheD Gown. Good looking gown at an affordable price!
Bier Kraichak, PhD
UC Bekeley
Lovely! I tried it on tonight. I was very impressed by how well it was made and how nice it looked.
Jeanne M. Harris, PhD
UC San Francisco, Professor at University of Vermont
I was very satisfied with both the regalia as well as the service given to me. Attention was given to my questions in a very professional manner which left me with the confidence that I would be receiving a quality product. I love my UC regalia and I will wear it proudly. Thank you so much for your professional service and prompt delivery.
Graciela Morales-Scott, PhD
University of California Los Angeles
Reasonable price with high quality!! The gown is beautifully made and it perfectly fits me. Also, the customer service was great and my order arrived fast.
Noey, PhD
Carnegie Mellon
I heard about this site from a friend who graduated a few years before me. As a continuing member of the academic community, this friend said her regalia was excellent and had held up well over the last few years. I was impressed by how quickly it arrived -- just two business days from when I placed my order! -- and by how high-quality it was. I loved the detail on the regalia, especially the piping around the velvet, and my friends and family all mentioned how wonderful it looked. I do have two minor comments. First, I noticed that some of tacking (i.e., rough stitching before the actual stitching) hadn't been removed on the hood, leaving a few stitches of white thread visible around the silky fabric. It's easy enough to remove, but I just didn't notice it before commencement began. Second, if you have longer hair, the Velcro-style fastenings on the adjustable hat will probably catch your hair a bit, since the scratchy hook side points inwards. I had some trouble with my hair when trying to remove or adjust my hat. It would be more comfortable for those of us with longer hair to have the softer loop side pointing toward the head (and have the hook side pointing away from it), but it's not too bad. Even with these two minor comments, I was incredibly happy with the regalia and with the customer service. I'd certainly recommend it to anyone interested in looking sharp on their commencement day -- and especially those who anticipate wearing their regalia again!
Alexandea Paxton, PhD
UC Merced